1 tag
Watch
We got the protein bar recipe from here.  They lingered in the fridge for a while, I'll be honest. But we definitely undercooked them. I'm a big fan of both Chad and The Art Of Fielding and I recommend the book without reservation, even to people who are not fans of baseball or sports or college or whatever else the book is "about."  As Chad says, it is a book about love. ...
2 tags
2 tags
Watch
A couple of things about this episode and Jon-Jon. 1. I'm wearing my glasses because I was having such face-bleeding-snot allergy attacks that day that the only thing that could keep me from dripping in the cookie dough were little minishots of vodka, a folk remedy recommended by Val. 2. Jon-Jon not only put up with this, he went out with us afterwards when 3. my mom, who was in town,...
3 tags
Watch
Bryan Charles and I made a Bittman recipe for spicy Szechuan chicken thighs topped with crispy bits of chicken skin. Watch as we ably demonstrate how not to butcher chicken!  And do check out CtB's very cute new Blip homepage.
4 tags
Watch
Jon Cotner and Andy Fitch do these transcribed conversation projects that are kind of hard to explain.  Watch us try! (while making juice.)  A bonus part of the episode is about zits and Andy's completely insane and wrong theory about how and why one gets them.
3 tags
Watch
Sempre Susan by Sigrid Nunez is on sale this week!  In this episode, we make stir-fried Sichuan green beans with pork, though coffee, cigarettes, and speed would have been more appropriate (according to Sigrid).  This book is a must-read for anyone interested in reading, writing, being a writer, New York in the 70s, motherhood, being an artist — in short it is a must-read for most humans.
3 tags
Watch
We had Emma Rathbone on the show to make strawberry cookies, which figure prominently in a scene from her debut novel The Patterns of Paper Monsters.  The cookies didn't go very well but everything else did!
Jake Cleland: Thoughts While Watching "Cooking The... →
jakec: Cute intro music. I like it when the screen splits into multiple parts like an episode of "24." Why does that temperature dial only go to 60? Oh it's the timer. Who's Doogie Horner? Do I have time to Google him? Oh no, it's starting. JESSE VENTURA! It's Gould as in "Ghouled", that's… Jake, you raise interesting points and ask pertinent questions.  They were cut-offs (we shot this...
2 tags
Watch
I know sometimes when I'm watching a video on the Internet I can get a little bored and tune out if it's longer than, say, :30 and not about a cat fighting a bear cub (and winning).  Nevertheless I have to recommend that you give this episode of Cooking the Books's flavors time to develop and blossom on your palate, like a fine wine/ vodka-Schlitz-lemonade beverage. Also at...
2 tags
Watch
I want to read a transcript of this episode.
2 tags
Watch
Recently on Cooking the Books we had "A Visit from the Macaroon Squad" with "A Visit From The Goon Squad" author Jennifer Egan.  We talked about how, when you're reading a book with many characters and plotlines and worlds, you're sometimes "waiting for your favorite."  One of the reasons why AVFTGS is such a remarkable book is that you're...
2 tags
1 tag
2 tags
4 tags
5 tags
Watch
Are We Winning author Will Leitch's episode of Cooking the Books is less of a "cooking" show and more of a "dropping something in warm but not boiling water and leaving it there for 2 minutes" show.  Nevertheless it's one of the best episodes ever for various reasons.  The ending is a real shocker.  I'm still a little bit shocked.
3 tags
Watch
Julie "Sweet Jewish Noodles" Klausner came to the Cooking the Books studio to discuss her book I Don't Care About Your Band and make kugel. We ended up mostly speaking Yiddish so I hope you don't have problems understanding us. This was the first time we'd had a guest who is already a star of the funniest videos on the Internet (cf: Mommy Time, Racist Annie, Welcome...
3 tags
Watch
For A Fortunate Age author Joanna Smith Rakoff's Cooking the Books, we made a classic brunch dish from late lamented Williamsburg eatery Oznot's Dish, harissa eggs and rosemary potatoes.  This is the easiest thing we've ever made and one of the most delicious — if you have harissa around.  If you don't have harissa around, why not make some?  It's cheap and...
3 tags
Watch
My Cooking the Books, starring Bennett as host and a very awesome Batman tshirt from the Val collection.
1 tag
4 tags
Watch
Kathryn Borel, the author of Corked, taught us how to make perfect hollandaise sauce and imitated her dad's French accent. 
5 tags
Watch
From the Hips author Ceridwen Morris and her husband The Ask author Sam Lipsyte joined us for some Momofuku pork buns.  In the Awl comments Choire pointed out that there is a recipe for these available online, but I feel that it is inferior and that you should just buy the cookbook.  It's a great cookbook — even if you never cook anything from it it's fun to read and pretty to...
4 tags
Watch
Cleaving author Julie Powell showed us how to make pig liver and onions.  Fun fact: I have been mostly a vegetarian since we taped this, not because it wasn't good, but because a little liver goes a long way.
4 tags
Watch
On episode 5, Girl Power author Marisa Meltzer and I made vegan cupcakes from Alicia Silverstone's vegan cookbook The Kind Diet.  Alicia advocates eating a healthy helping of greens for breakfast every day, and would like to remind you that honey is food for bees, by bees.
4 tags
Watch
The Melting Season author Jami Attenberg made cheeseburgers on episode 4.  We tried to replicate the Shake Shack burger with ok results.  The Shake Shack sauce was good, at least.  Probably Laurie Colwin is right that hamburgers are a restaurant food, not an at-home food.
4 tags
Watch
Obsolete author Anna Jane Grossman made popcorn cookies for Episode 3.  This was the only time we made food that was actually not very successful; if you would like to also make kinda-gross cookies with too much going on in them, the recipe is here.
4 tags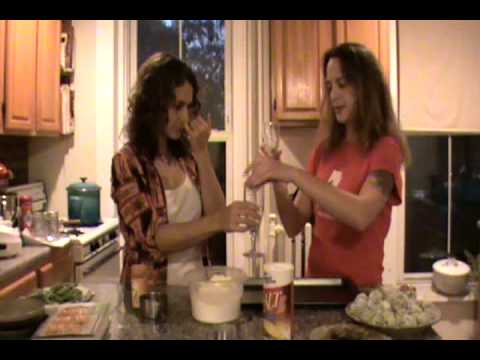 4 tags